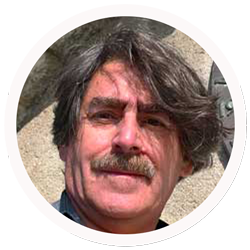 Cristian Brinck
Disruptive perfumer since creation, his handmade perfumes are expressive and intense, since each of them begins with an inspiration. The vibrant relationship between aromas and colors of his synesthesia, allows an amazing perception of the environment.
He produces individually or in small batches in his studio in Viña del Mar, Chile, with natural ingredients collected from different corners of the world, added to precious and exclusive endemic ingredients from the south of the world.
His creations have reached souls all over the world, from Tokyo to Barhein, from Milan to Marseille, from Seattle to Bergen.

---
Solitaires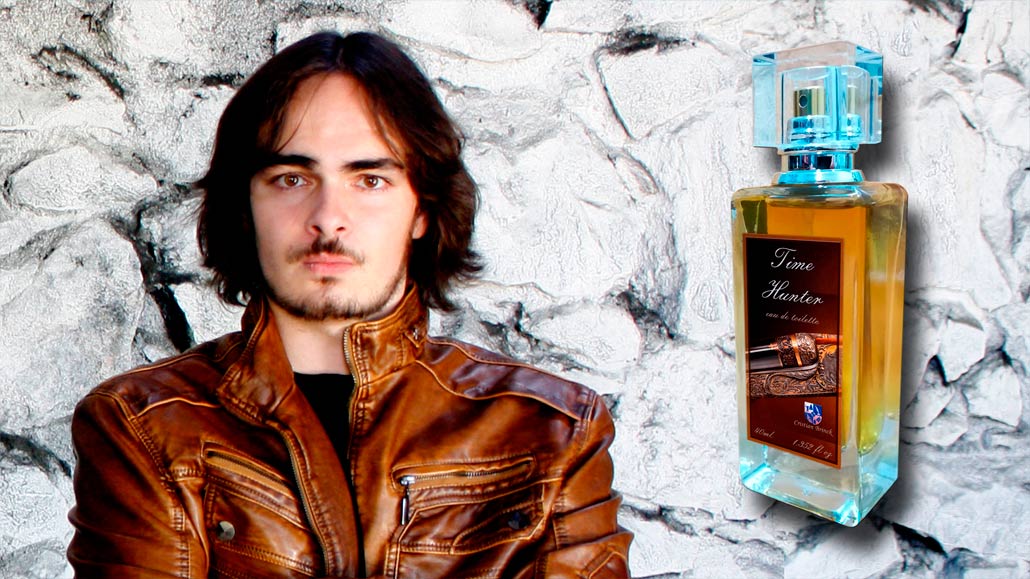 Time Hunter
• Year: 2020
• Eau de Toilette
• 40 ml / 1.35 fl oz
• Top Notes: Cardamom, Juniper, Bourbon, Scots Pine
• Middle Notes: Frankincense, Virginia Cedar, Oud
• Base Notes: Patchouli, Amber, Musk, Cetalox
For the ancient Greeks, Aion is the god of eternity who does not need to devour anything to be eternal, he is a child and an old man, the generous and satisfied god who makes sense in himself, the god who does not contemplate goals or plans, it invites us to an action that makes sense in itself.

---
Old Continent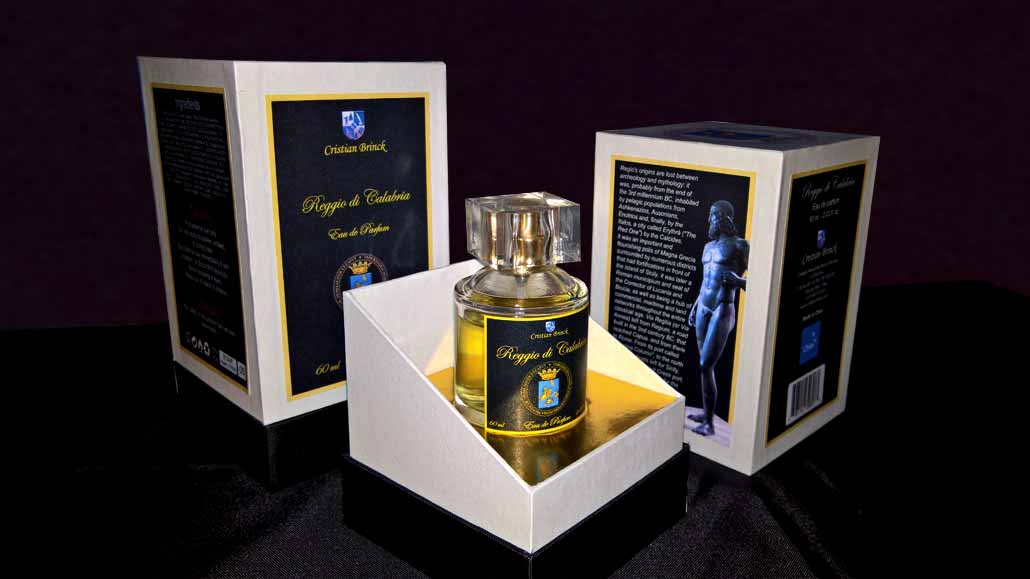 Reggio di Calabria
• Year: 2018
• Eau de Parfum
• 60 ml / 2.03 fl oz
• Top Notes: Sweet Orange, Scots Pine, Green Apple, Pineapple
• Middle Notes: Roman Sage, Ylang-Ylang, Muget, Magnolia
• Base Notes: Vanilla, Amber, Sandalwood, Patchouli
Regio's origins are lost between archeology and mythology: it was, probably from the end of the 3rd millennium BC, inhabited by pelagic populations from Ashkenazios, Ausonians, Enotrios and, finally, by the Italos, a city called Erythrà ('The Red One') by the Calcides. It was an important and flourishing polis of Magna Grecia surrounded by numerous districts that had fortifications in front of the island of Sicily, it was later a Roman municipium and seat of the Corrector of Lucania and Brucia, as well as being a hub of commercial, maritime and land networks throughout the entire classical age. Via Regilia (or Via Annea) left from Regium, a road built in the 2nd century BC. that reached Capua, and from there to Rome. From its port called 'Rhegina Column', to the north of the city, boats left for Sicily, and from its ancient Greek port, to the south of the city, for the entire Mediterranean.

---
Old Continent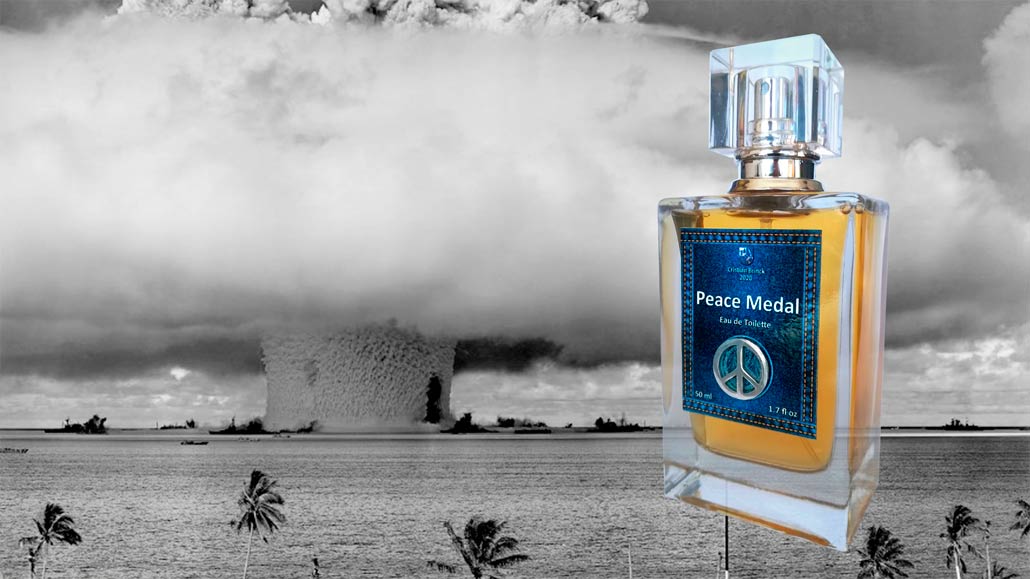 Peace Medal
• Year: 2020
• Eau de Toilette
• 50 ml / 1.69 fl oz
• Top Notes: Lime, Pink Pepper, Black Pepper, Iso E super
• Middle Notes: Cannabis, Thyme, Tonka Bean
• Base Notes: Patchouli, Oak, Ambargris, Vanilla
Many times the call to Peace requires finding alternative, diverse and divergent paths. Breaking schemes does not mean destroying everything, it is rather flooding everything with our best intentions.
On Good Friday in 1958, thousands gathered in Trafalgar Square in London to protest against nuclear weapons. They were responding to a series of test explosions carried out by the United Kingdom, the third nation to join the nuclear club after the United States and the USSR. Over the next four days, the bravest marched to Aldermaston, a small town 50 miles west of London, where British nuclear weapons were designed and stored. On the posters and banners of the protesters, a new symbol was making its first appearance. Gerald Holtom, designer and pacifist, had developed it from the letters 'N' and 'D' of the traffic light alphabet, the code used by sailors.

---
Millennial Japan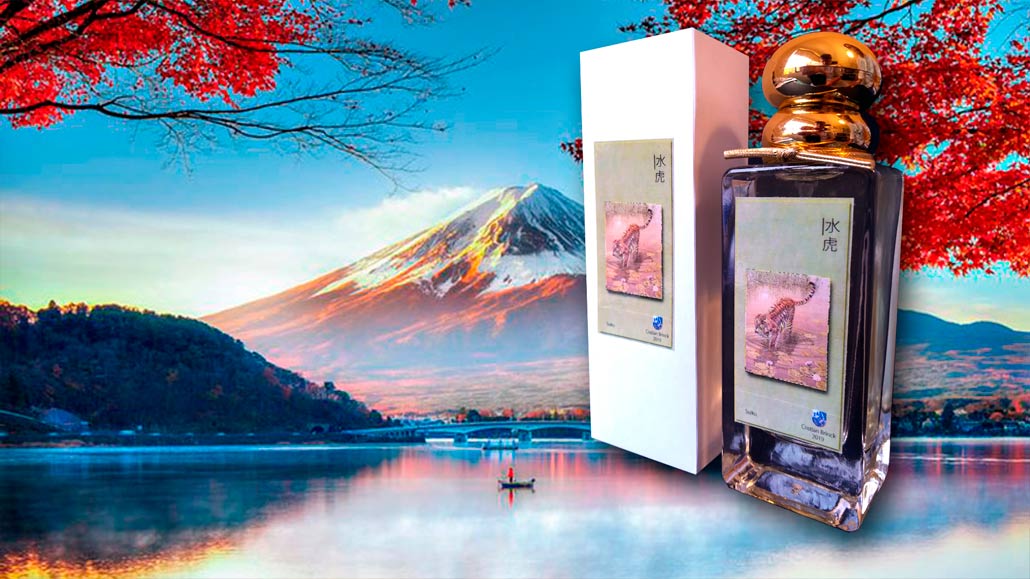 水虎 Suiko
• Year: 2019
• Eau de Parfum
• 40 ml / 1.35 fl oz
• Top Notes: Lavender, Clove, Frankincense
• Middle Notes: Geranium, Jasmine, Cedrus, Agarwood
• Base Notes: Patchouli, Agarwood, Musk, Styrax Benzoin
The incense arrived in Japan in the sixth century in the aromatic luggage of Buddhist monks, although the legend collected in the Nihonshoki presents a different story that goes through the discovery of a piece of oud wood collected on the shores of the islands in times of Empress Suiko, 6th century, and that when launched into the flames began to give off a very pleasant smell which led the locals to offer it as a gift to the Empress.

---
Millennial Japan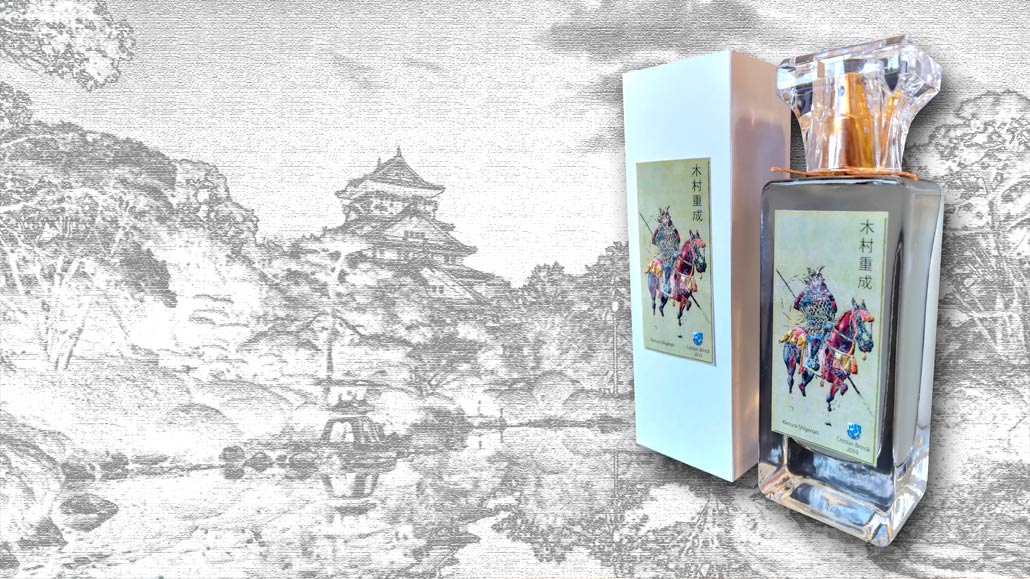 木村重成 Kimura Shigenari
• Year: 2019
• Eau de Parfum
• 40 ml / 1.35 fl oz
• Top Notes: Frankincense, Pinus sylvestris
• Middle Notes: Agarwood
• Base Notes: Musk
Kimura Shigenari, one of the most legendary samurai in history. Before each battle, Kimura was following a very important ritual: burning incense inside his mask. He knew that he could lose his life in any battle and that his head would be taken as a trophy. Therefore, he hoped that whoever decapitated him would take away a part of his body with the right scent. He fought his last battle in 1615, while defending Osaka Castle.

---
Millennial Japan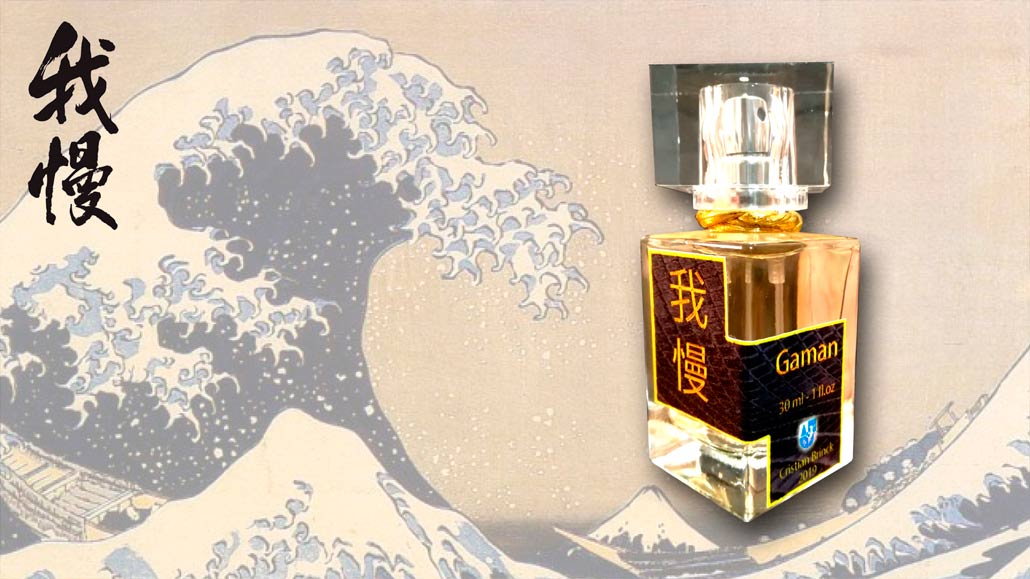 我慢 Gaman
• Year: 2019
• Eau de Parfum
• 30 ml / 1.01 fl oz
• Top Notes: Caramel, Iso E super, Agarwood
• Middle Notes: Agarwood, Iso E super
• Base Notes: Musk
Japanese word originating in Zen Buddhism, which means 'to accept adversity with patience and dignity, and then rise again as a society', the ability of the Japanese to help each other is attributed to the spirit of Gaman.

---
South Star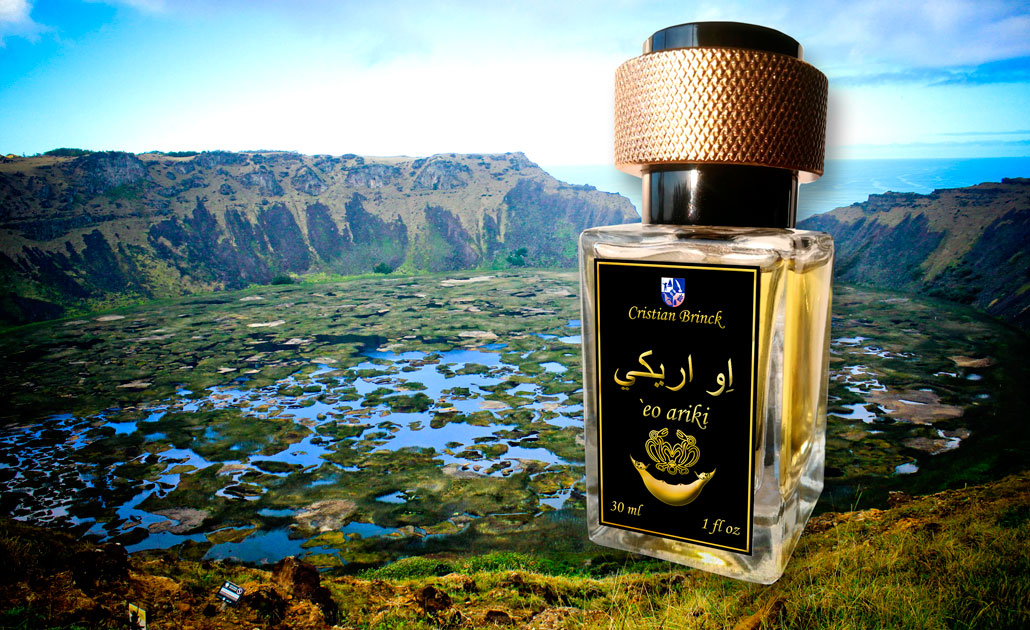 'eo ariki
• Year: 2021
• Eau de Parfum
• 30 ml / 1.01 fl oz
• Top Notes: Banana, Marine notes
• Middle Notes: Toromiro flower, Frangipani, Geosmin
• Base Notes: Sandalwood, Leather, Amber, Musk
The National Botanical Garden of Viña del Mar has the last toromiro tree (Sophora toromiro) and the extract of its flowers was collected to recreate the aroma in honor of the Arikis of Rapa Nui.
Using wood from the extinct toromiro tree, a figure of a kavakava moai was carved in the time of the Tu'u Koihu ariki, eldest son of the first Ariki of Rapa Nui, Hotu Matu'a. In 1868 the figure was shipped to London on the ship 'Topaze'.

€ 300 + taxes + shipping
Limited Production
---
South Star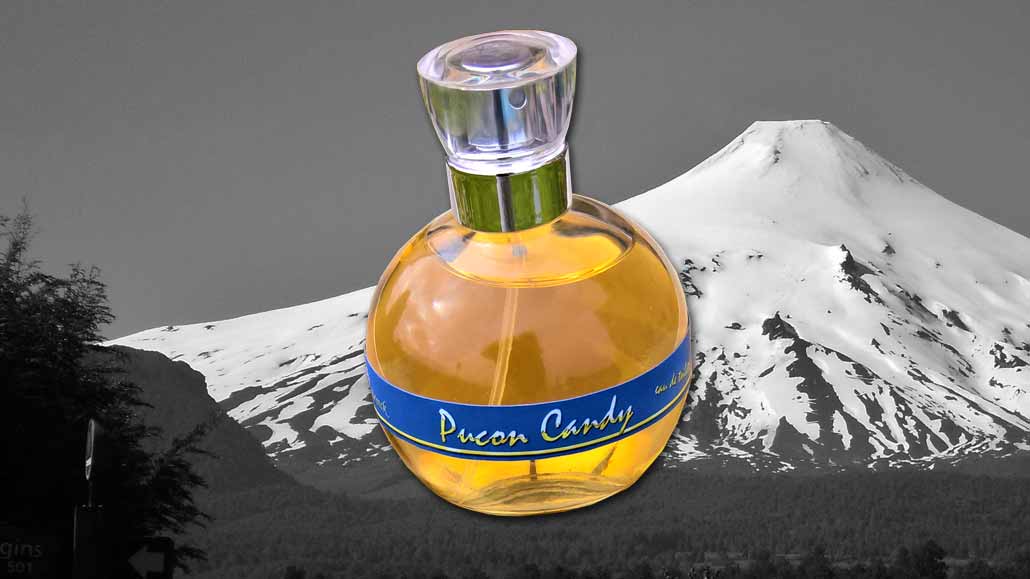 Pucon Candy
• Year: 2020
• Eau de Toilette
• 100 ml / 3.38 fl oz
• Top Notes: Caramel, Melon
• Middle Notes: Damascene Rose
• Base Notes: Amber, Cashmeran, Patchouli, Musk
On Sundays the park-square of the city of Pucón (in the South of Chile) is flooded with aromas of cotton candy. The aroma passes through multiple paths of variable pavement, with Mapuche sculptures, wetlands, oaks, coihues, ulmos and others, recreating a typical forest of the area, everything contributes to enrich the aromatic heritage of the weekend family outing, generating a memory that is treasured in the trunk of fratenity.

---
South Star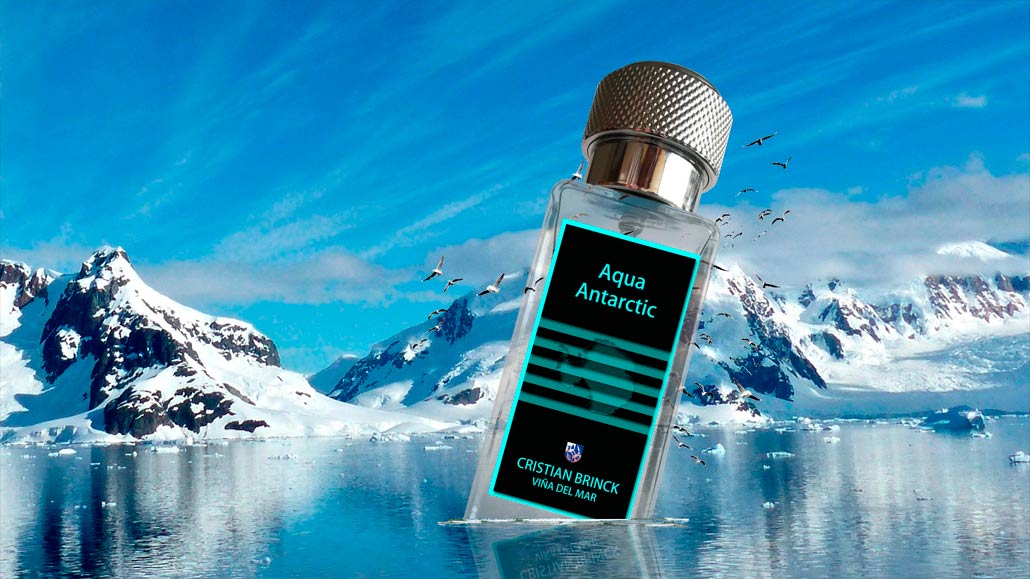 Aqua Antarctic
• Year: 2020
• Eau de Parfum
• 40 ml / 1.35 fl oz
• Top Notes: Mentha, Lime, Camphor
• Middle Notes: Caramel, Tonka Bean
• Base Notes: Oakmoss
The mysterious freshness and delicious cold of Antarctica remind us of the sweet arboreal past of this continent.
Its greatest mystery lies in the fact that it frozen 23 million years ago, long before homo sapiens appeared.
But the fragment of a map produced by the admiral and cartographer Piri Reis, describes a southern land mass identical to Antarctica, based on previous Chinese charts.

€ 150 + taxes + shipping
Limited Production
---
Painted Perfumes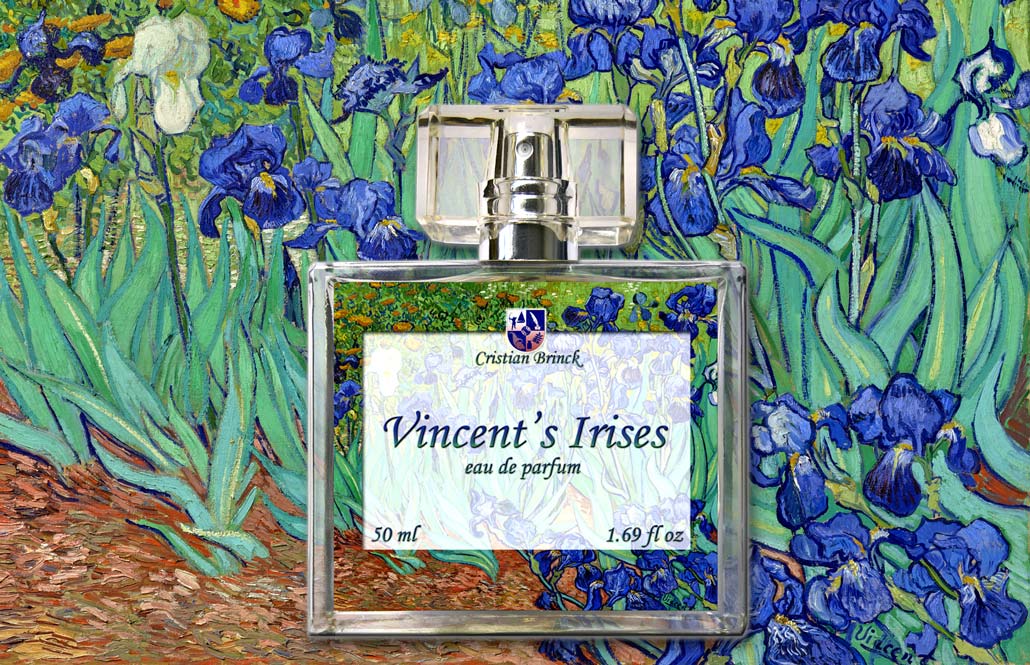 Vincent's Irises
• Year: 2021
• Eau de Parfum
• 50 ml / 1.69 fl oz
• Top Notes: Bergamot, Orris Root
• Middle Notes: Orris Root, Juniper Berries
• Base Notes: Amberwood, Musk
It draws attention from afar. The Irises are a beautiful studio full of air and life." was what Theo wrote to his brother Vincent Van Gogh, referring to the exhibition of the "Société des Artistes Indépendants" in September 1889. Van Gogh began painting Irises a week after entering the Saint Paul de Mausole asylum in Saint Rémy de Provence, France, in May 1889, working the nature of the garden on it. He called the painting "the lightning rod of my illness.

---
Painted Perfumes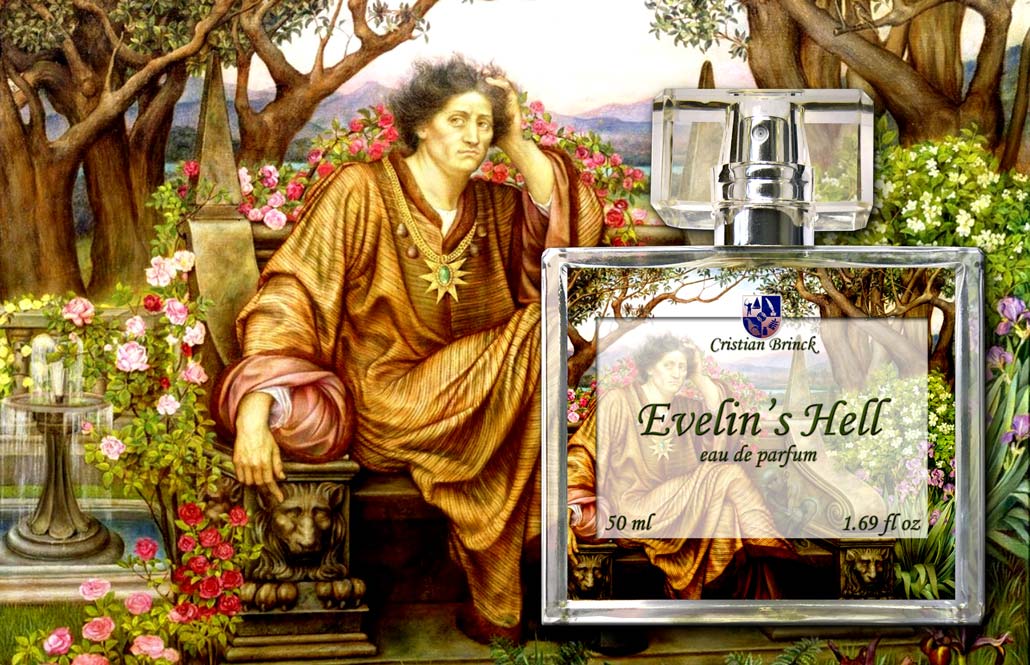 Evelin's Hell
• Year: 2021
• Eau de Parfum
• 50 ml / 1.69 fl oz
• Top Notes: Mint, Celery, Wintergreen
• Middle Notes: Damascene Rose, Jasmine, Lily of the Valley
• Base Notes: Cedar, Patchouli, Ambar
In 1874, Evelyn began presenting her works under this name, rather than her Christian name, Mary, to ensure that she was judged on her merits and not on being a woman in a man's world. Evelyn De Morgan defying the expectations of her class and gender became one of the most impressive artists of her generation. Her richly colored canvases with beautifully draped figures convey messages of feminism, spirituality, and the rejection of war and material wealth, making them incredibly relevant today. Her work 'A soul in hell' is a clear example of this and we have reflected this assonance in the very name of the perfume.

---
Painted Perfumes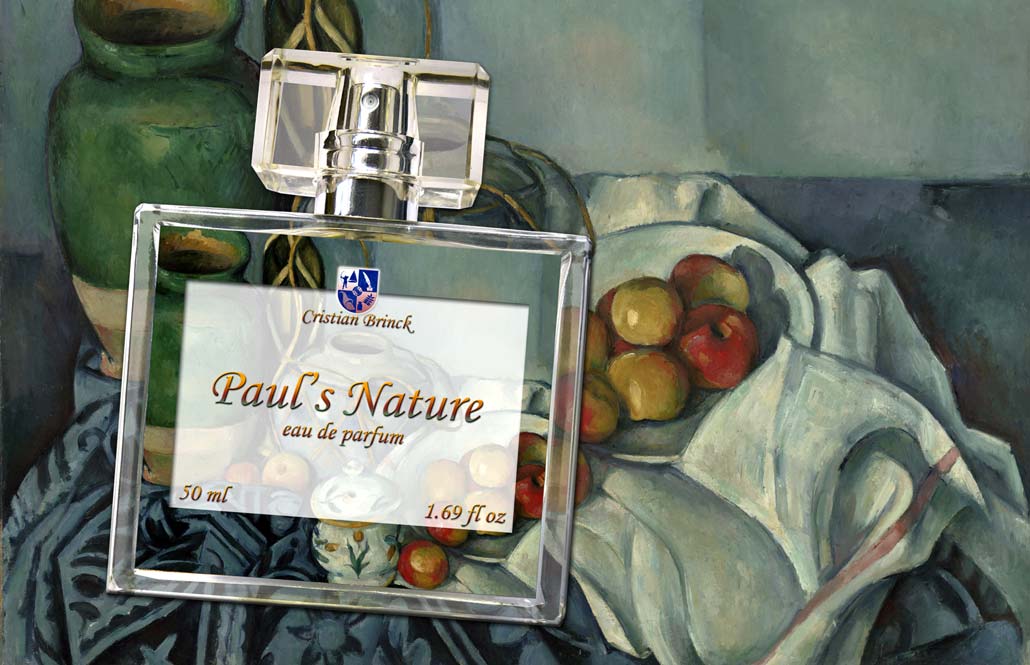 Paul's Nature
• Year: 2021
• Eau de Parfum
• 50 ml / 1.69 fl oz
• Top Notes: Apple, Ginger, Chamomile
• Middle Notes: Peru Balsam
• Base Notes: Vetiver, Myrrh, Cetalox
For the last thirty years of his life, Paul Cézanne painted the same objects: the green vase, the rum bottle, the ginger pot, and the apples, over and over again. His interest was not in the objects themselves, but in using them to experiment with shape, color, and lighting. There is a sense of comforting stability in this 1894 work. With a careful balance of each brushstroke in texture and color.

---
---